Hi Girls! Today I am sharing my reviews on Garnier Fructis Oil In Cream.  As you all know changing weather and not oiling your hair on proper time makes your hair look frizzy, dry and damaged.  Applying oil to the hair has a long process as well as it makes you little uncomfortable too but Garnier Fructis Oil In Cream is now here which is really easy to use and you feel super comfortable to apply it on your hair. "It is a new generation hair oil" Yeah!! its a oil in a cream form. It is a powerful combination of Coconut, Almond and Olive oil and these oil work amazing for a good hair care routine.
Description & Claims of Garnier Fructis Oil In Cream :
Oil replacement cream.
Get the nourishment of hair oils in a non-sticky cream format.
Nourishes hair & feels stronger.
Zero stickiness & mess.
Pleasant long lasting fragrance.
Apply to the hair at night & wake up to transformed hair.
Leaves hair fragrant, strong & healthy.
No need to search for home remedies for hair fall or dandruff when you have oil in cream at your side.
Hair looks bouncy and full of life.
Three Ways to Use Garnier Fructis Oil In Cream :
Use it like a hair oil massage into the scalp before hair wash.
Massage into hair and scalp and leave it overnight.
Use on hair length for manageable and frizz free hair after hair wash.
Features of Garnier Fructis Oil In Cream :
Contains coconut,almost and olive oil.
Conditions hair from root to tip.
Non-sticky light cream format.
Makes hair stronger.
Comes in 3 sizes – 50 gm for Rs.35, 100 gm for Rs.60 and 200 gm for Rs.100.
Shelf life – 3 years.
Yellow sturdy tube with a flip-top cap.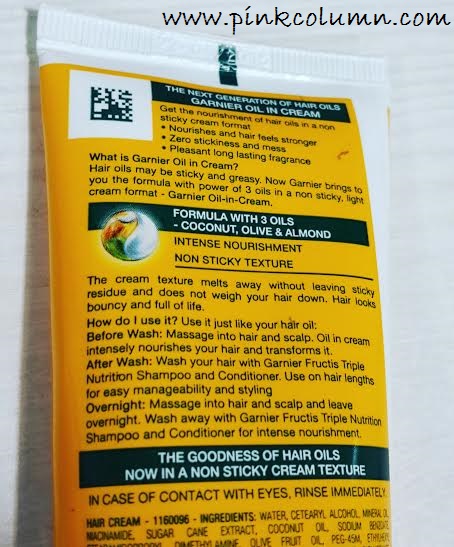 Easily available in stores and online.
Inexpensive
Light weight
Non greasy
Smells Wonderful
Can be applied on scalp as well
Controls frizz
Makes hair soft & manageable
Travel friendly packaging.
Absorbs quickly
Fragrance is not at all long-lasting.
It also contains some chemicals so it is not advisable to use it as overnight treatment on regular basis.
Garnier Fructis Oil In Cream is a great product at affordable price.It does most of what it claims and can be used in multiple ways according to your convenience. It makes hair soft , frizz free and manageable.All in all a total Yes! for this product…Girls go for it and shine like a star!!
I hope this review was helpful and informative to all those reading.