Most of you already know that I traveled to Jaipur (by Instagram and Facebook post) on my birthday. This blog is on the looks that I have created in Jaipur. Like always I have kept few basics which can be mix and matched to bring out multiple variations. As Jaipur is comparatively hotter than Delhi so I have kept very light woolens and light color clothes.  A small tip here: always plan your look beforehand; it saves so much time and space. I have created five looks here and featured this look book. So, without wasting any time let's start with my 1st look.
Look No. 1:
Because it was hot during the day time so I decided to wear this chikan with dark blue denim. To pep up this look I am carrying this orange sling bag and metallic sandals. For jewelry, I am wearing my watch, silver earrings and bangles (which I bought from Jaipur). This look is really simple to create and it lets you breathe at this temperature while being classy.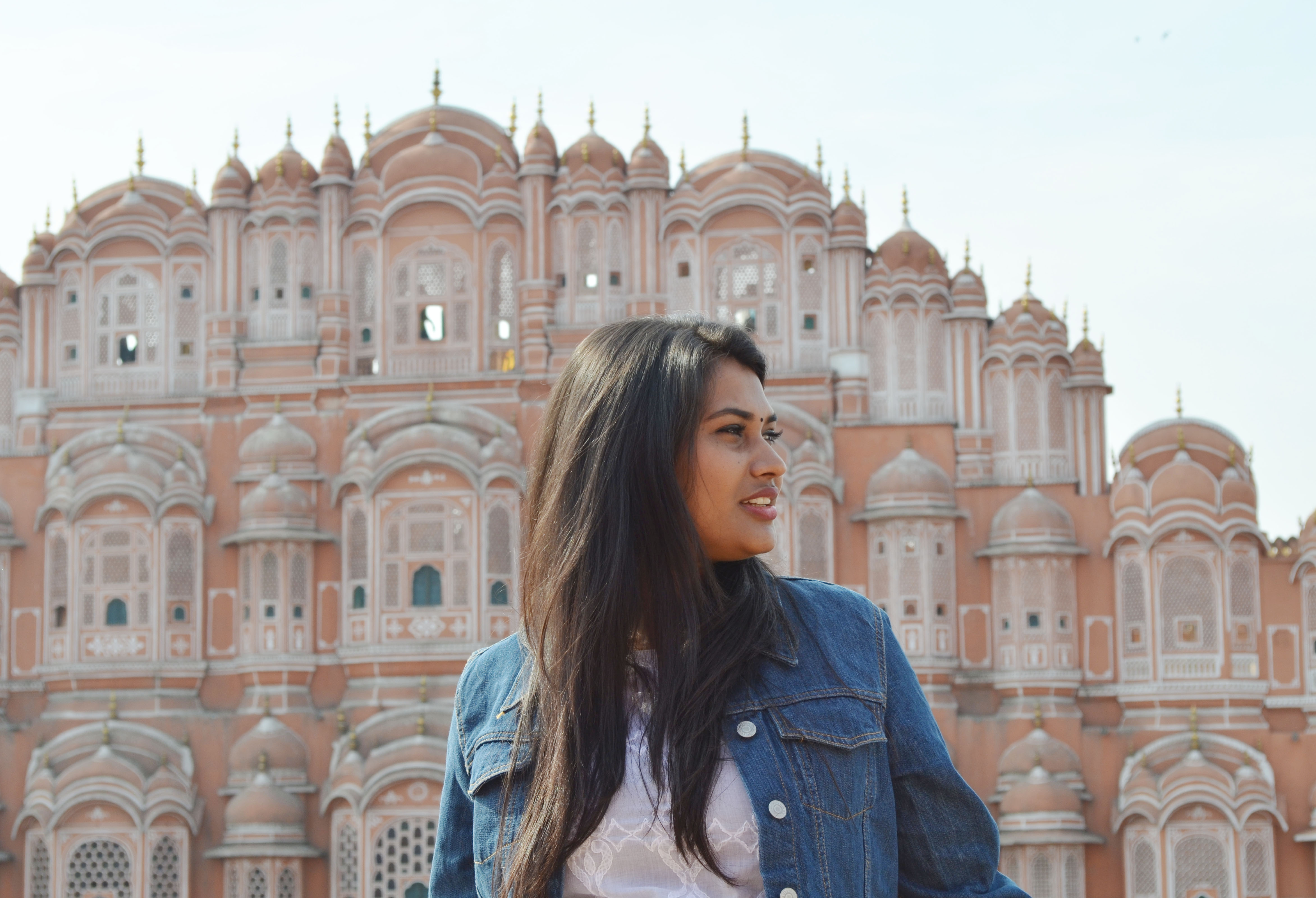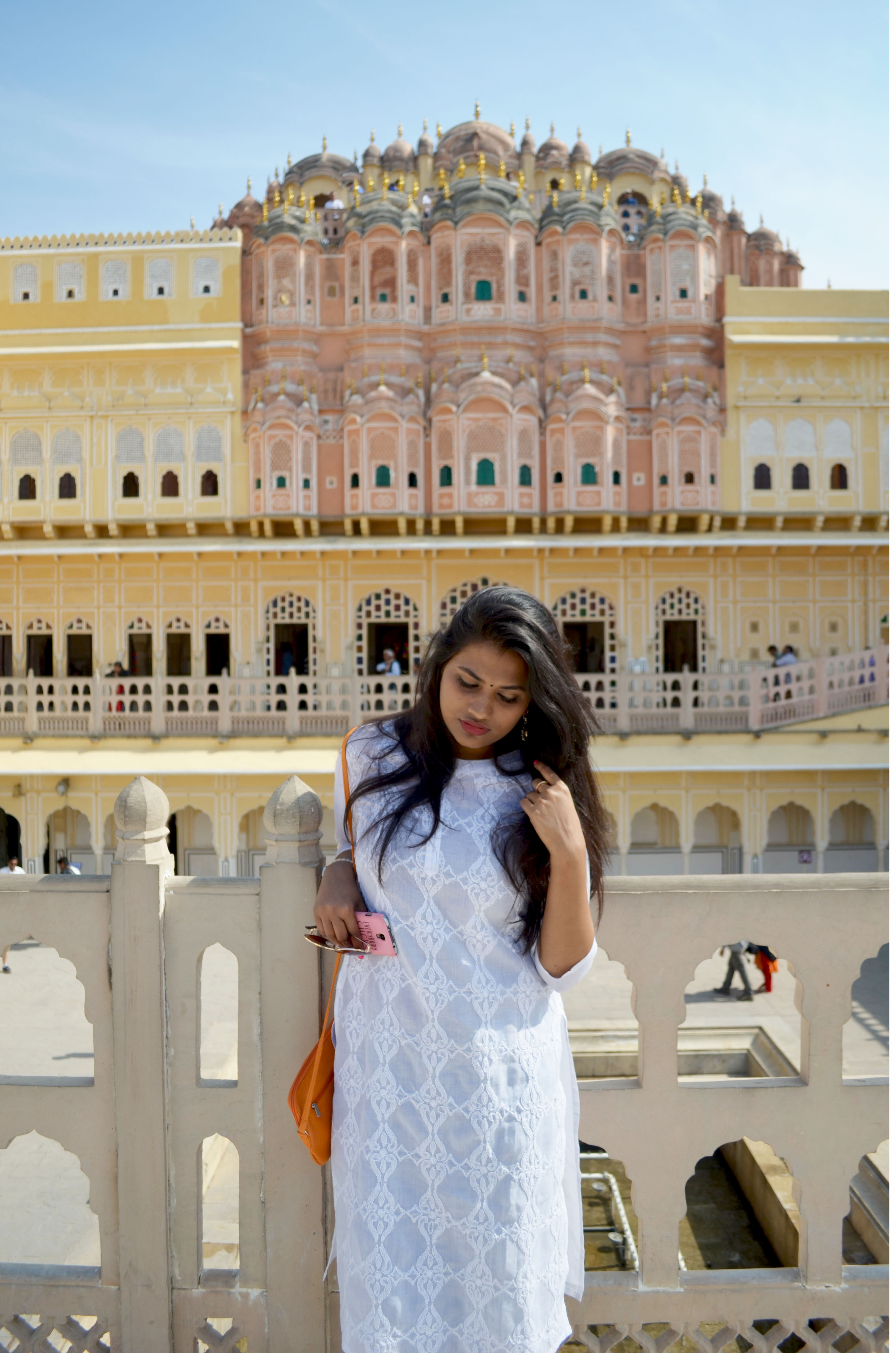 Denim: Levi's / Kurta: Melange / Sling Bag: Caprese / Footwear: Lifestyle / Shades : Forever21 / Jewellery : Earrings (CP) and Bangles (Jaipur).
Look No. 2:
We decided to go out in the evening and to protect from chills, I wore denim jacket over white top. This one is pretty basic and muted. I broke the monotony using bright lipstick to which these images are not doing justice. Carried my stuff in the brown tote and wore same jewelry and watch.
Top: H&M / Denim: Levi's / Denim Jacket: Top Shop / Footwear: Bata / Tote Bag : Allen Solly / Jewellery : Watch (Titan) and Earring (Pantaloons)
Look No. 3:
We decided to cover 2 – 3 forts in a day so I thought of going for comfort footwear. I kept this entire look keeping my sports shoes in mind. I opted for plaid shirt and jeans and carried denim jacket to protect from chilly wind.
White Shirt: H&M / Denim: Levi's / Denim Jacket: Top Shop / Footwear: Puma / Shades: Forever21
Look No. 4:
This one is of birthday where I went out for dinner with my friends. After walking a lot around the forts I was tired and I didn't take any efforts towards this one. Here's the complete minimal look of mine. I have also paired this spaghetti top with black palazzo in my Lansdowne look-book.
White Spaghetti Top: Top Shop / Denim: Levi's / Black Blazer: Forever21 / Footwear: Westside / Sling Bag: Caprese / Jewellery: Watch (titan) and Earring (Big Bazaar)
Look No. 5:
Jaipur is known for its rich ethnic wear. To rock that I wore this beige silk suit with leheriya dupatta. I paired this outfit with Kundan bangles and earrings.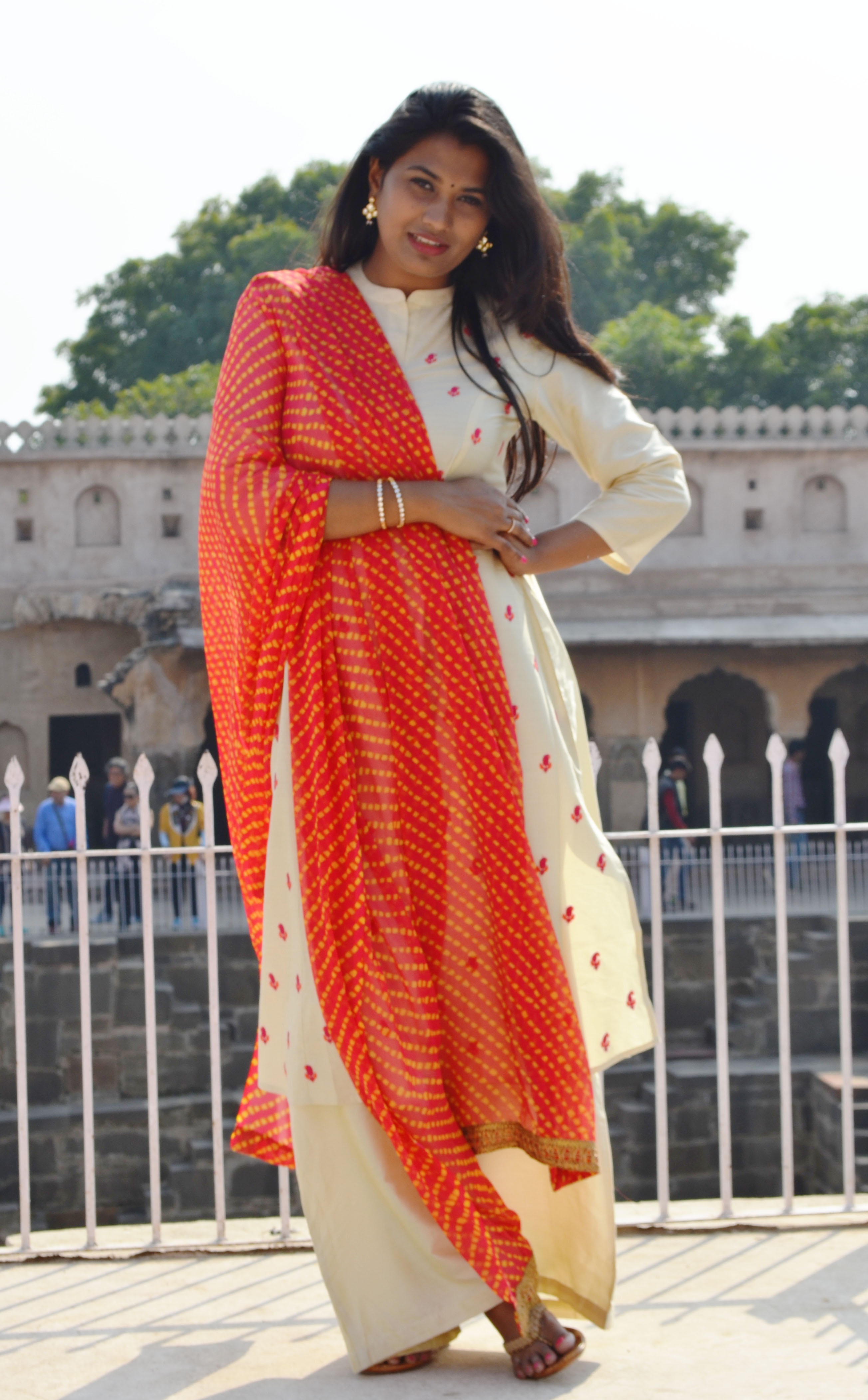 Suit: Westside / Footwear: Big Bazaar / Shades: Forever21 / Jewellery: bg's
Pic courtesy: Anshu Saurabh
Hope you have enjoyed this look book!