Hi Girls! Today I am reviewing "Clean & Clear Oil free Moisturiser" a product from Johnson & Johnson. The major problem which I face during summers is oiliness n breakouts on my face. I have normal to oily skin so after applying any cream or sunscreen it becomes more oily and as a result pimples starts popping up on my face.  I have used many products during summer due to the same.
I have been using products from Clean & Clear from my college days. So I can trust this brand like my family member. Recently I have bought "Clean & Clear Oil free Moisturiser" as it claims Oil Free- wont Clog Pores so I thought I should give it a try.
It's been more than a week now that I am using this product twice a day or as per the requirement of my skin as sometime it becomes dry due to high cooling of my AC 😛 I am happy with "Clean & Clear Oil free Moisturiser" as it doesn't make my  face oily and I have not seen any breakout till now.
Product Claims: Clean & Clear Oil free Moisturiser Developed with an oil-free moisturising formula, it leaves your skin feeling soft, smooth and non-greasy, specially designed to get easily absorbed into the skin. Helps to prevent skin from feeling rough or dry. Also contains salicylic acid which helps to prevent pimples. Leaves your skin feeling clean and beautifully clear.
Packaging: "Clean & Clear Oil free Moisturiser" comes in white and purple color tube with a flip cap which maintains the hygiene. Packaging is spill proof and travel friendly.
Price:  Rs. 50/- for 40 ml tube.
Availability: It is easily available in all the drug stores, departmental stores and it is also available online stores.
Product life: 24 months from date of packaging
Direction, Caution and Ingredients: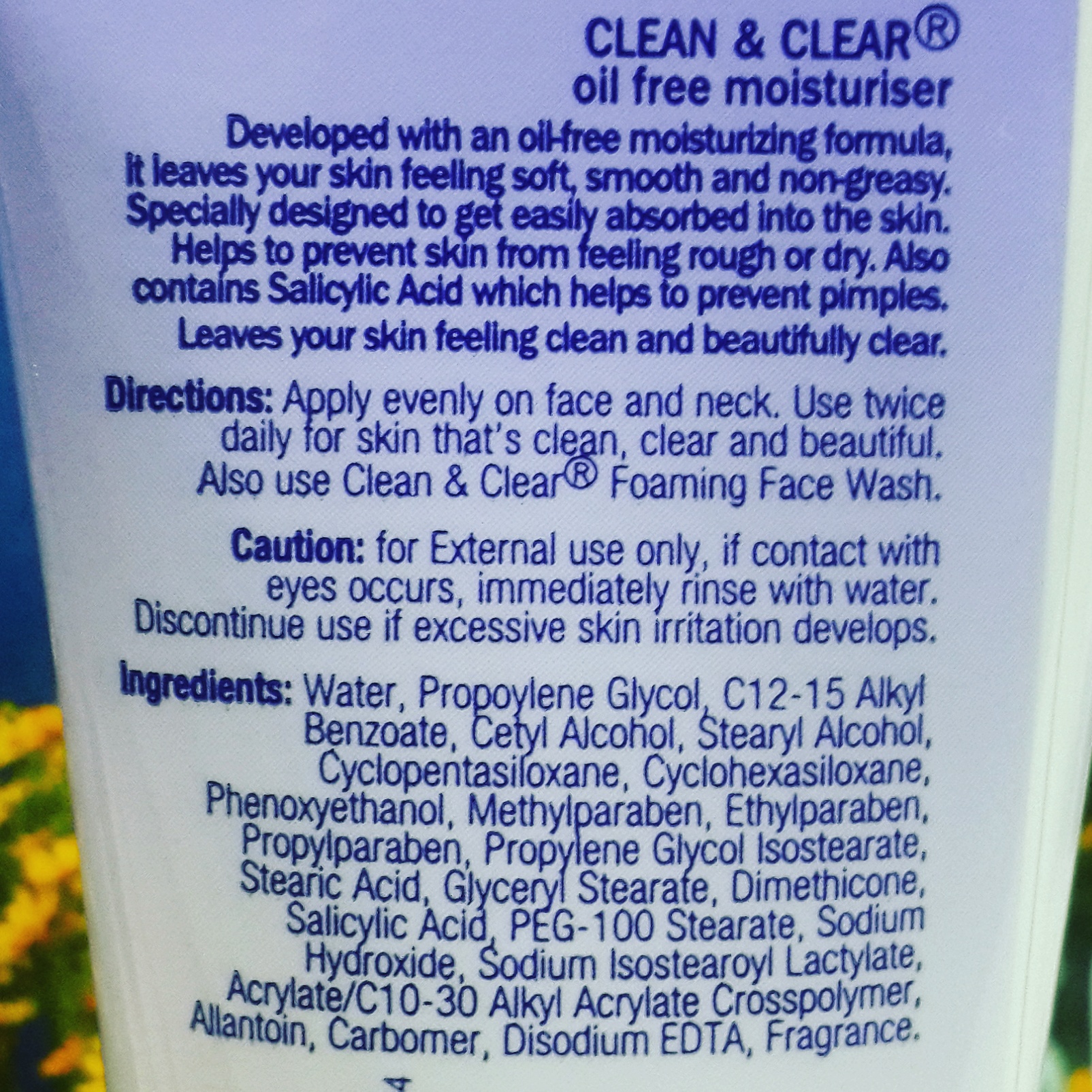 Pros:
It is suitable for both men and women.
Value for money (Affordable price).
Don't Cause me any breakout.
It feels very light on the skin as it has mild moisturizer.
Provides adequate hydration to my skin without feeling greasy.
Like the packaging (Travel friendly)
Cons:
It doesn't have SPF in it.
It is only for normal to oily skin (Not suitable for extremely dry skin).
Not suitable for winters.
Overall Rating: 4/5
Recommendation: 
A Big Yes for "Clean & Clear Oil free Moisturiser". A Good Moisturiser for people with normal to oily skin and have acne Problem.